Cheap Mobile Plans with International Callings for Students in the United States
Updated on: 2022-01-04 - 3 mins read
Mobile PlansInternational CallingStudents in USAH2OLycatelloT-mobileBoost mobileAT&TXfinityRaza

According to Statista, 914,095 international students were studying in the USA in the academic year 2020/21. More than 55,000 Indian students and exchange visitors to the USA have been given student visas in the year 2021.
If you are a US student or plan to study there, you must purchase a reliable cell phone plan. The good news is that cell phone plans in the US have become cheaper in the last few years because of increasing competition.
On the one hand, it is good news. On the other hand, it becomes a bit of work to choose the right plan. This article will make it easier for you to find the right plan for international calling.
Why is choosing the right telecom provider important?
No plan fits perfectly for every student. It depends on your requirement, location, and usage. As mentioned above, there are so many telecom providers, and they have different international calling plans. You must choose the right telecom provider as it helps you save money. There are some expensive plans as well in the market.
If you end up signing up for them, you may unnecessarily spend extra on your phone bills. Being a student, you cannot afford it, right?
Factors to consider while choosing a telecom provider
Below are some factors to consider while choosing a telecom provider for international calling:
Type of plan you want - There are two types of plans in the US - a contract plan and a prepaid plan. Depending on your needs, you can choose the plan for yourself. The most common contract plan comes with two years of the contract. The calling rates are low in such plans. However, prepaid plans are more popular among students as buying them does not require a Social Security number or credit card history.
Internet data - You will have to check how much data is given in the plan.
Calling minutes - If you make most of your calls over the internet, you can choose a plan with low calling minutes. If most people you plan are uncomfortable taking calls over the internet, you will have to buy a plan with high calling minutes.
Network quality - Choose a network with excellent network quality. You will have to research and find the best network in your area.
Cheap mobile plans with international callings for students in the USA:
1. H2O wireless - offers unlimited international talk to 70 countries like Mexico, China, and India. Each unlimited plan comes with $1.50 or $5.00 of monthly international talk credit, depending on your plan. You can add credit with the international talk top-up if your talk time is finished. The cheapest plans offered by H2O Wireless start at $18 a month, which gives you unlimited nationwide text and talk messages, 2GB of high-speed data, unlimited international text and call, and $1.50 international talk credit.
Learn more: H2O Wireless Plans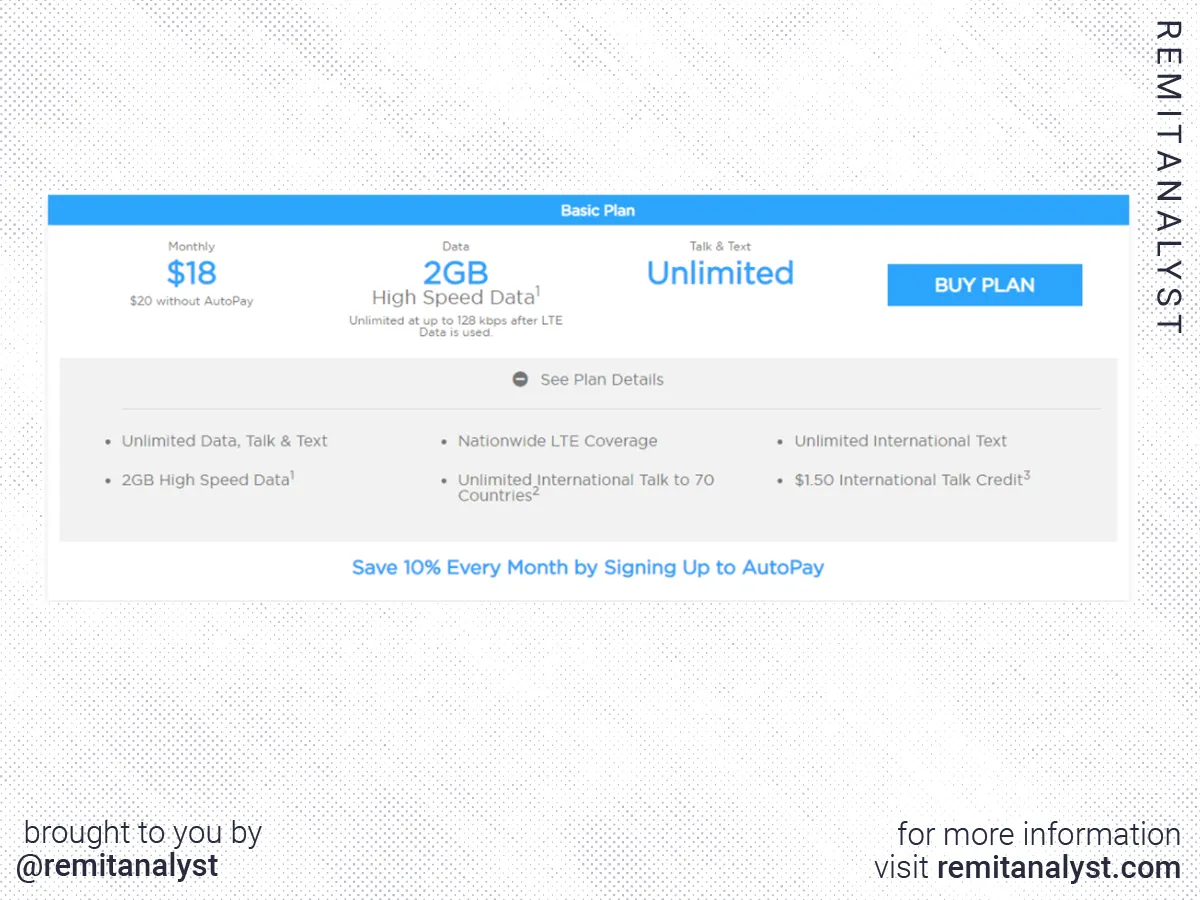 2. Xfinity Mobile - Xfinity plans let you talk and text to other countries at competitive rates. The rates are based on the number of lines you opt for, as low as $24/month/line. Using the XFINITY Voice Unlimited plan, you can make calls to nearly half the world at home or on the go with your smartphone or tablet. You get 300 minutes to landline phones and select mobile phones in over 120 countries for $9.95 per month. It offers per-minute rates to 200+ global locations.
Learn more: Xfinity Voice Unlimited Plans
3. Boost mobile – Besides selecting the USA plan, you can add Boost mobile international minute packs to any monthly plan. You can buy a minute pack depending on the country you want to call. The minute pack ranges between $3 and $20, depending on the country. You can use your international minute pack within 90 days of purchase. If you have used all your minutes before 90 days, you can purchase an add-on minute pack and make calls with the same discounted rates.
Learn more: Boost mobile International Minute Packs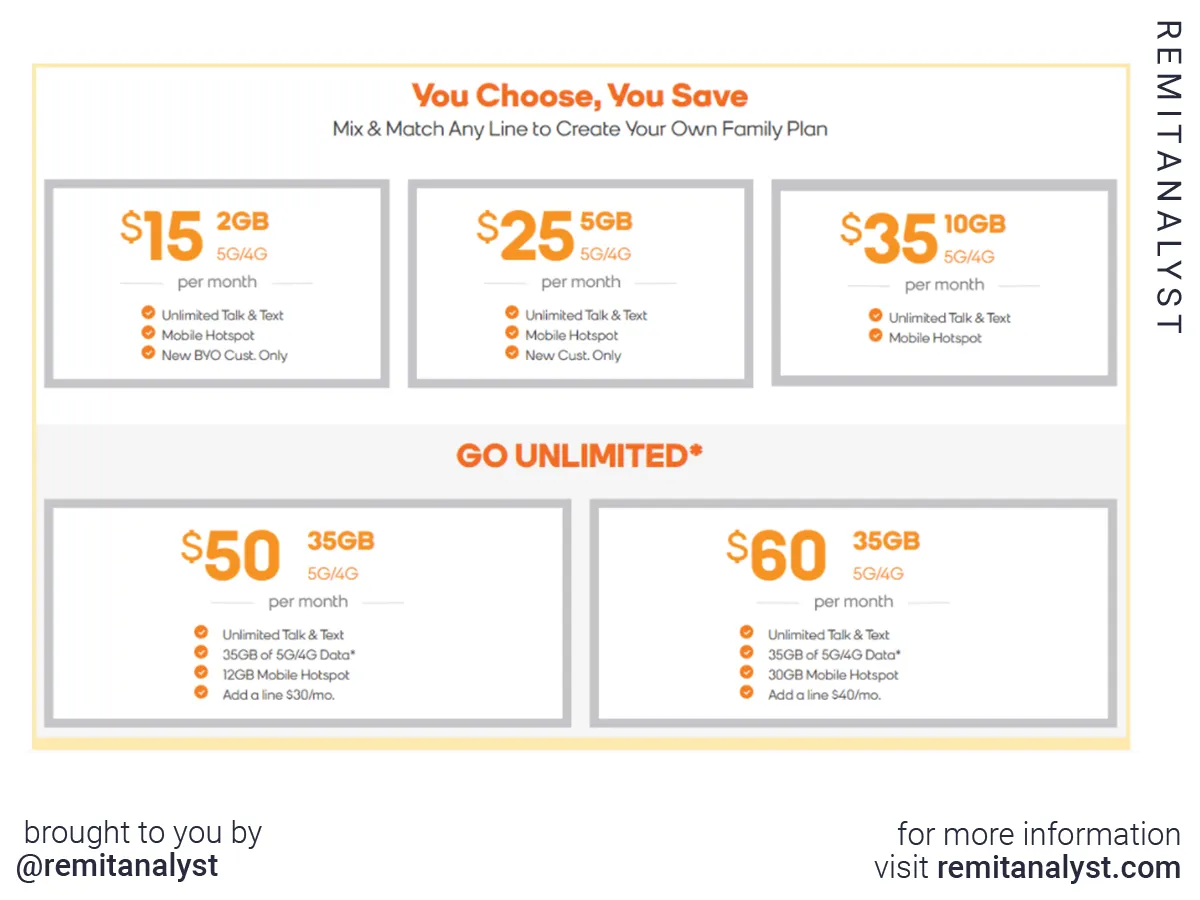 4. AT&T - plan lets you make calls to 85+ countries, including India, China, and Germany. You get discounted rates when calling 140+ countries. The international calling plans start at $25 per month.
Learn more: At&T International packs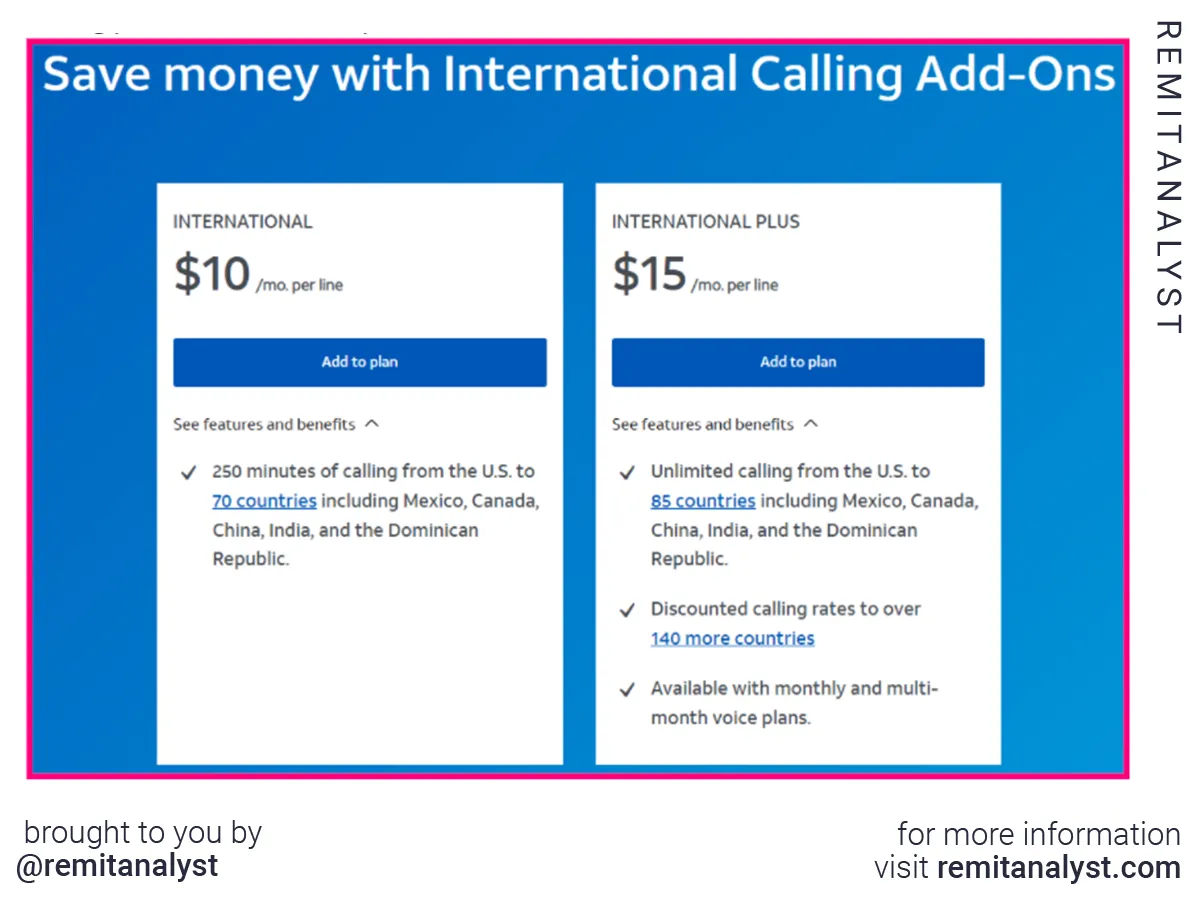 5. Tello - Every Tello plan lets you make free calls to 60+ countries. China, Mexico, and India are some countries you can make calls to without any additional charge. Making calls from the Tello network to your country is no different than calling across the street, as it asks for no extra cost. You can build your custom plans starting from $7 to $39 per month
Learn more: Tello International Plans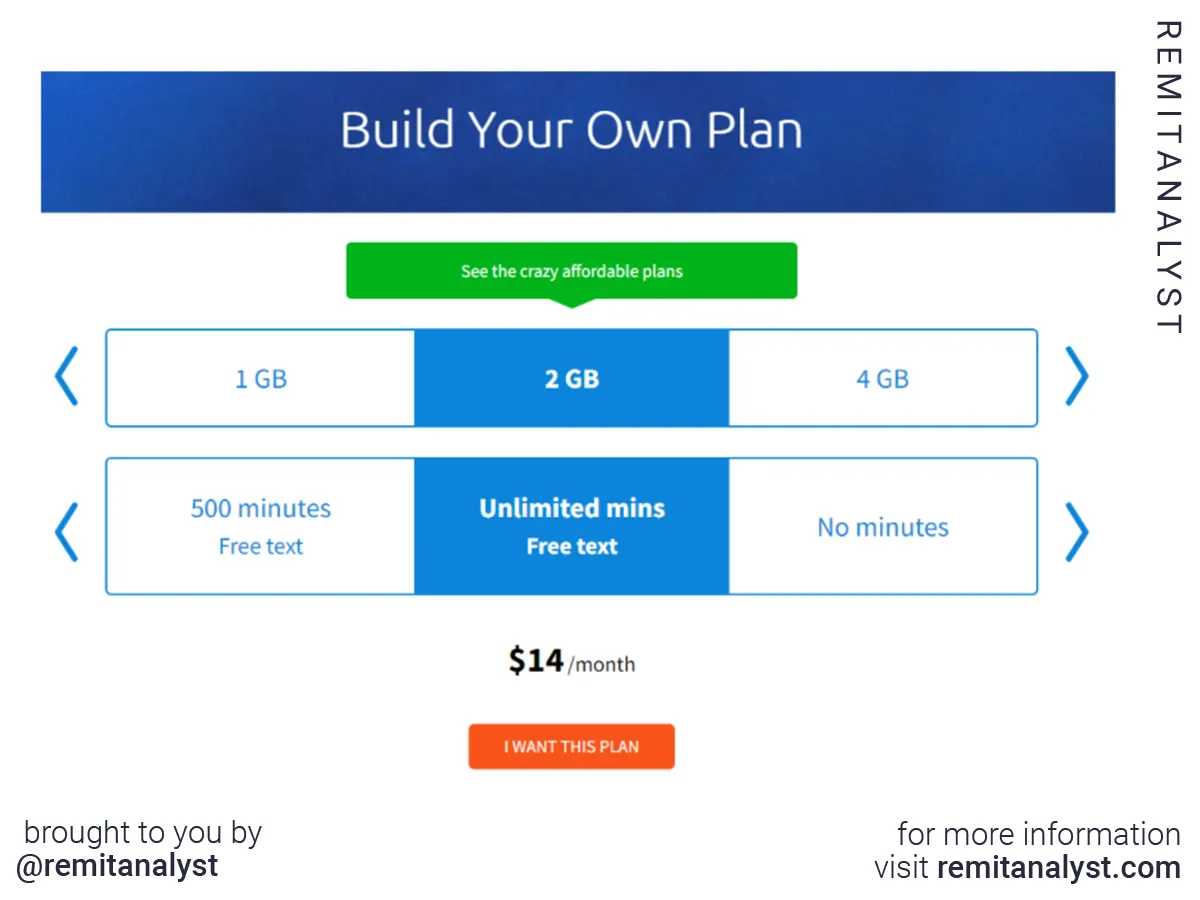 6. T Mobile - You can make calls to landlines in 70+ countries and mobile lines in 30+ countries and destinations by adding Stateside International Talk for $15/month. The calling rates will vary depending on the country you are calling.
Learn more: T Mobile's Stateside International Talk Plan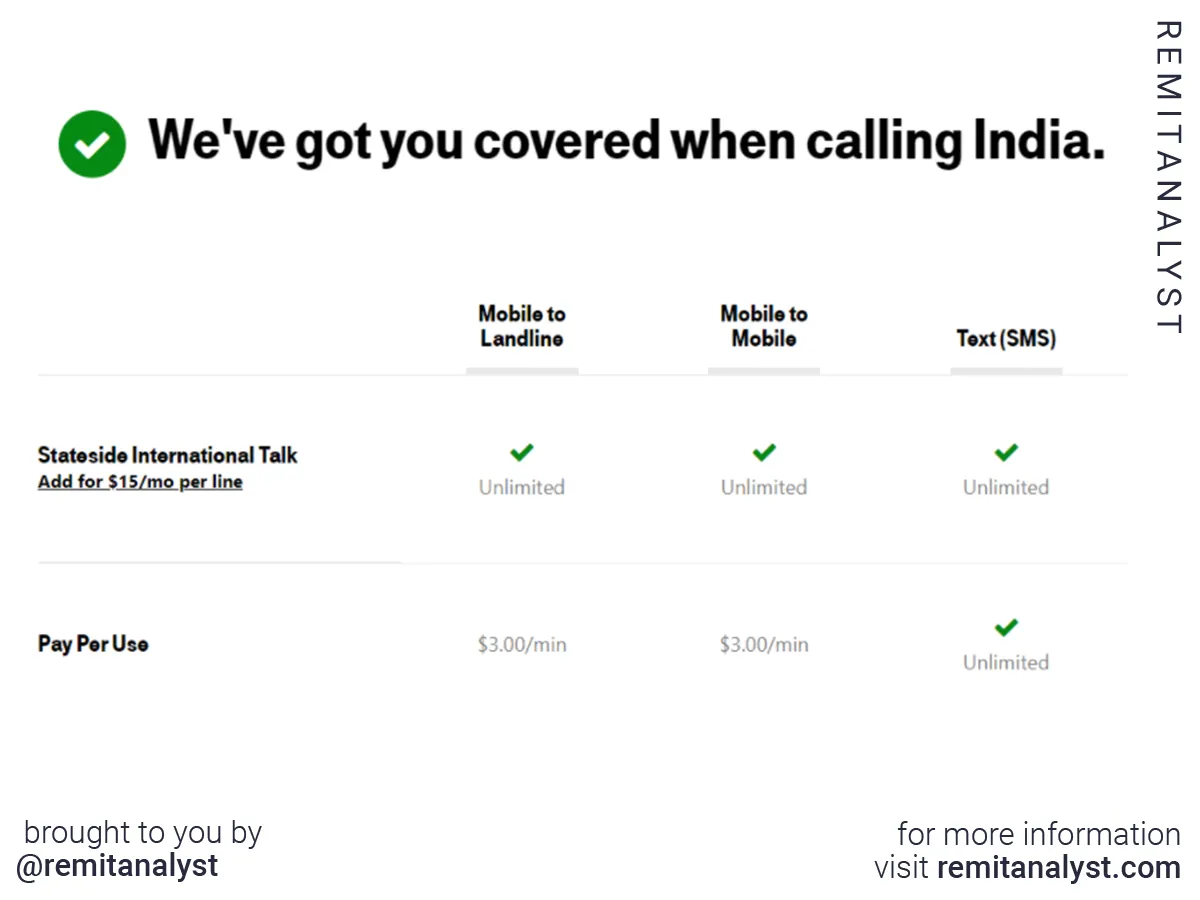 7. Lyca mobile - offers plans depending on the country you want to call. You can take a Lyca mobile plan that comes with international calling. For example, Lyca's unlimited international plan starts at $19, giving you unlimited international talk, 1GB of Data at up to 4G LTE, and text to 75+ countries.
Learn more: Lyca's unlimited global plan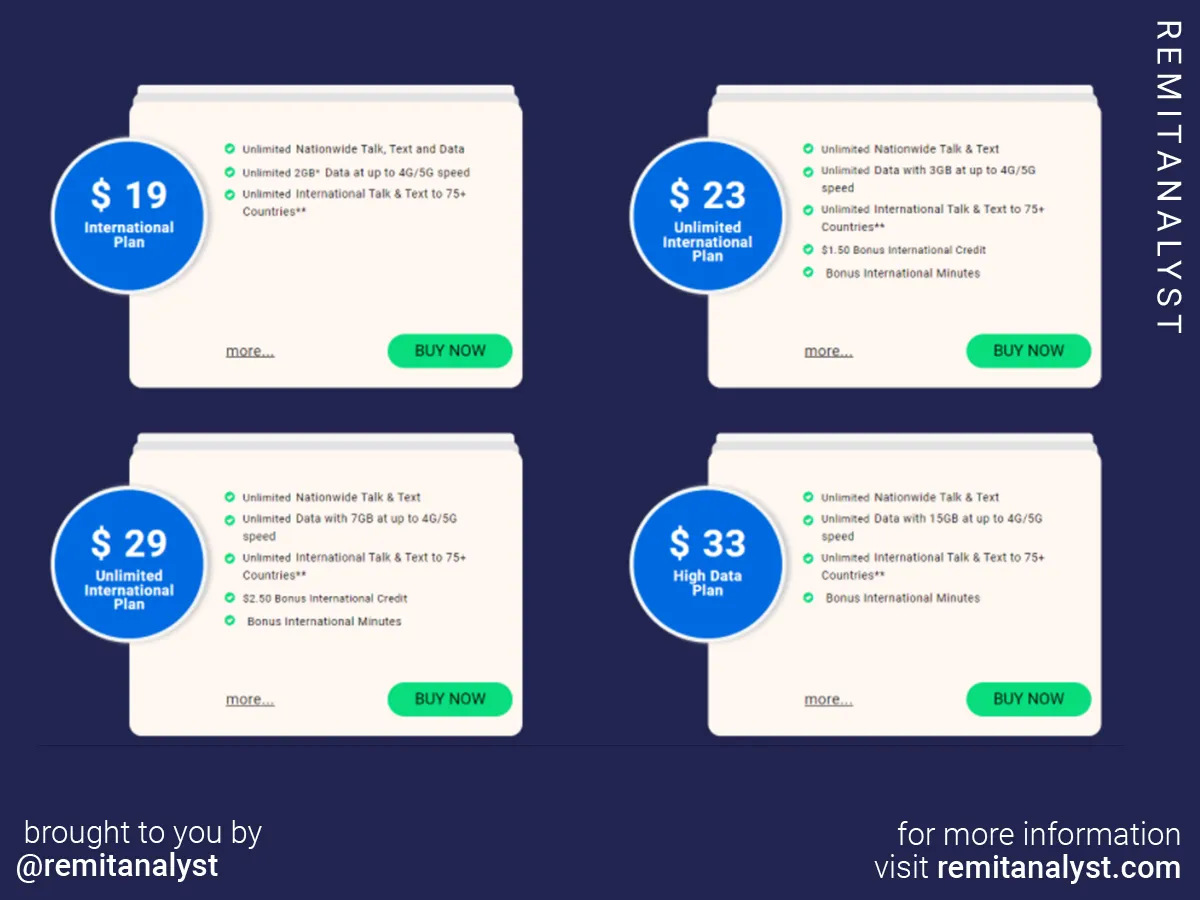 8. Raza - It offers extremely cheap plans if you plan to make calls to Asian countries. For example, you get 1000 calling minutes to India for just $9.99 (mobile only). You can select the country you wish to call and know the calling rates.
Learn more: Raza's International Plans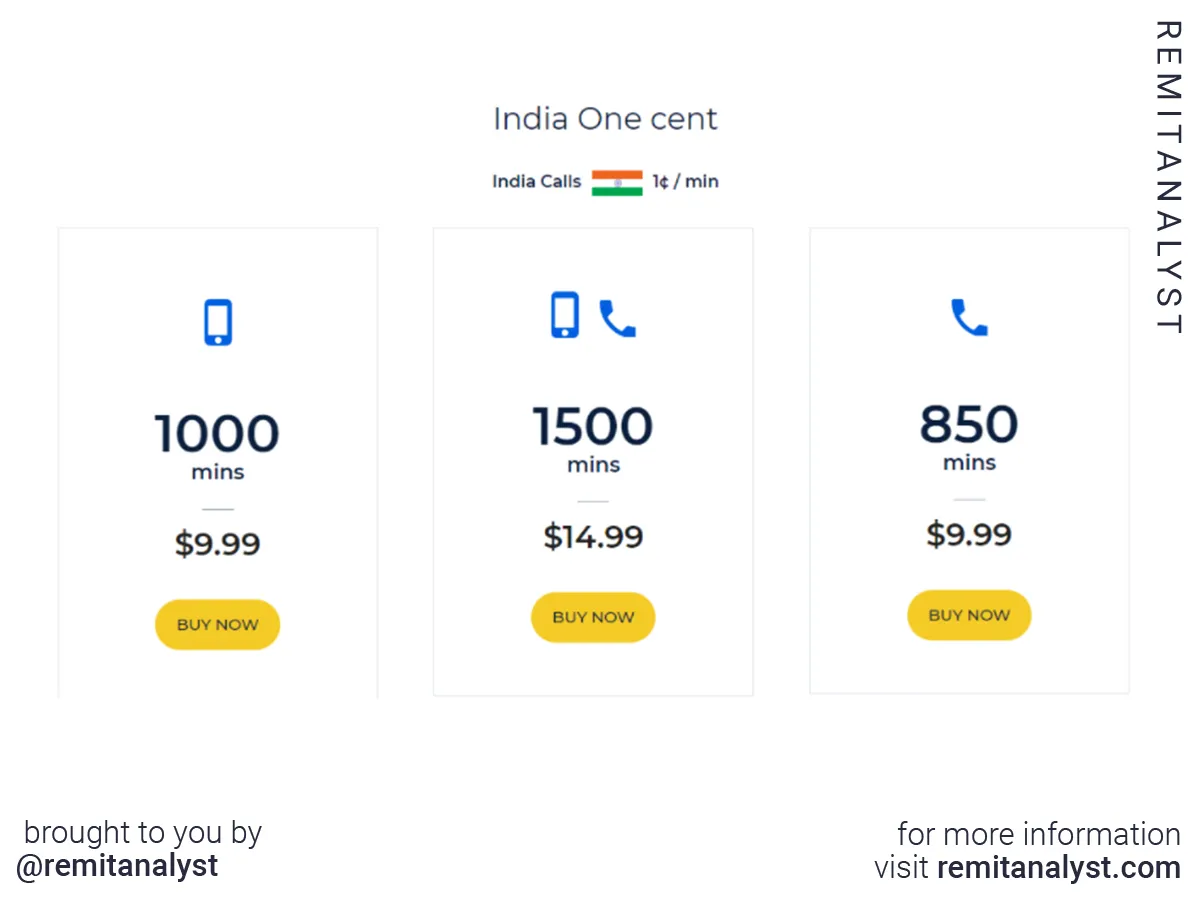 We hope you can better decide which international calling plans are good for you and save money.