Beware of these 10 Online Frauds/Scams
Updated on: 2019-10-30 - 3 mins read
Online FraudsOnline ScamsCyber CrimeMoney Transfer Scams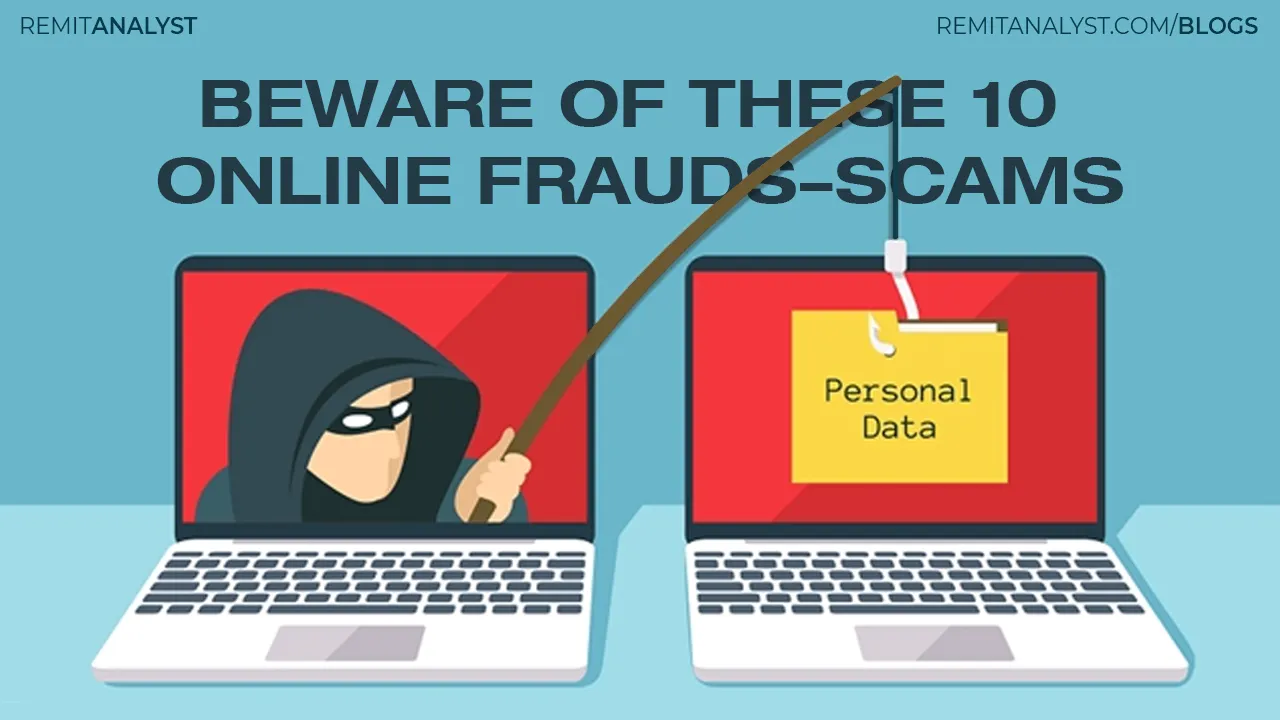 Today's modern world is connected 24/7 with the internet, and most of our sensitive information is synced. Scammers may attempt to make use of the internet to steal personal and sensitive information or some trick to snitch money from you. Online frauds/scams are getting more and more sophisticated. Below are some common types of online money transfer frauds/scams:
Beware of these 10 online Frauds/Scams
1. Fake Virus Scams
While surfing online, you often receive warnings saying, "Your computer is Infected-Download this tool to clean your computer." When you install such tools, these tools will monitor everything you do on your computer and send sensitive information to those scammers who have built such tools. Any reputable site will never show such warning messages. Make sure you know all these pop-ups and do not end up installing any device on your computer.
2. Catfish Scams
Catfish scams take days and days to be executed. Scammers will set up online social media profiles using fake names and other people's profile photos. Using such profiles, they message people in a flirty way to establish a fake relationship. They even create a fake love affair that will last for days, and suddenly they start asking you for money as they're in urgent need, or even sometimes, they blackmail you in multiple ways. As soon as you pay them, they deactivate the fake profile, and you never hear back from them. Do not add bogus profiles to your social media networks to protect yourself from scams.
3. Room/Rent Sharing Scams
Often when you put out a request of either subleasing your apartment or sharing your apartment, you would be contacted by scammers using fake social media profiles or email IDs asking for all sorts of information about your apartment, neighborhood, transportation services, and amenities to sound convincing. Then they ask for the rent amount and your bank account details to send you money. Sometimes they even send you extra money and ask you to repay the money they paid accidentally. When you pay them back, they cancel the initial transfer, and you would lose your money to someone you never met in your life. Students often fall prey to such traps, and international students are advised to verify information while booking student housing in London and other famous cities. To avoid such scams, book rented houses through trusted accommodation providers and refrain from sending money before the contract is finalized.
4. Lottery Scams
Once in a while, you receive an email saying you have won a lottery and asking you to send your personal information and a small payment to claim the lottery amount you have won. Most of the time, we don't fall for such scams, but these emails look like they're from governmental agencies as scammers fake the domain from which the email has come, which makes it look legitimate. Be aware if you have never played a lottery or received such emails.
5. Free Gift Card Scams
Multiple websites offer gift cards if you agree to participate in their survey questionnaires. In those questionnaires, you provide them your personal information either throughout the survey or at the end of the study all at once to claim the gift card. Then all the information you provided would be sold to other scammers, which becomes a tricky question of identity threat in the future.
6. Job Offer Scams
Job offer emails and ads are being targeted to those who are either unemployed or not happy with their current jobs. Such emails and ads offer a large salary just by working from home. These emails and ads look legitimate as they send emails from the existing domain and show ads on multiple famous websites. They might also pay you for a short period, but they sell your personal and banking information later on.
7. Apple Product Scams
Apple products are pretty popular, but because of their high price point, many people try to search for offers and deals online. Many fake social media accounts are out there on the internet which circulate fake offers saying, "Get a brand new iPhone in $1," & when you provide them with your bank/debit card/credit card details for paying $1, they will steal a lot more money from you using those payment details.
8. Long-lost Relative Scams
You get a call from a random person saying your long-lost relative has just passed away, and you are one of the few persons on his will. Scammers do proper research through your social media account before making this move to sound extra convincing. They ask you to provide your bank details by saying they would deposit the money left by that relative, but instead, they drain your account very fast before you come to know about the scam.
9. Online Pharmacy Website Scams
A handful of fake websites claim that they deliver drugs to your home at a cheaper rate than other stores and websites, but instead of delivering anything, they would take your payment details and charge heavily for them. Such scammers spend hand full of time building such a website so it looks legitimate, but actually, they're not. Make sure you only use a website built on a secured domain to shopping anything online. Also, sometimes such scammers send you an offer link on your email but make sure you don't open any suspicious links directly from your email.
10. iTunes, Netflix, PayPal Scams
You receive fake emails which look like genuine emails with "Your service has expired" or "Your account is locked" as subject lines to grab your attention. Then they ask you to provide your personal information, including your payment details, through a link in the email. Be sure that such companies never ask for your data via email. Do not attempt to click any of these links inside these fake emails. If it looks legitimate, then before responding to such emails, contact the company directly to confirm if they have sent this email or not.
One of the most common types of online scams involves currency exchange rates. Many people fall prey to this type of fraud while trying to convert currency, especially when dealing with USD to INR historic exchange rates. Scammers often advertise fake exchange rate charts online, luring unsuspecting victims into exchanging their money at inflated rates. They may also trick people into providing their personal and financial information to offer a better exchange rate. Therefore, it is important to always research exchange rates from reputable sources and be cautious of unsolicited offers or suspicious websites. Always double-check the website's authenticity and the exchange rate's credibility before making any transaction.